It's summer and although that tends to signify the work holiday is imminent and you can, should you care to, let yourself go courtesy of eggnog and copious amounts of Christmas ham, it also means that the Aussie sun unleashes its relentless glare on all of us. And while it makes for optimal beach cricket weather, it tends to be less kind to our skin and grooming routines – not to mention the fact that numerous scientific articles and evidence has made baking under the sun less something to be coveted and more an exercise in ignorance.
So, with that in mind, it's time to turn our attention to grooming. Now is not the time to undo all your hard work over the year, or that glow-up that was a decade in the making. Instead, it's the time to reflect on those products that helped us salvage our best selves when really, until recently we were most likely using body wash as a conditioner, too. 
But while there are a number of products on the market, it can be hard to cut through the noise and know what works well. Sure style is subjective, and while we all have the hairstyle we like or the length of beard we prefer to sport, grooming products are something of a staple: when something works, you never stray. With that in mind, we've scoured the shelves to pick out the best of the rest.
Encapsulating everything from hair care, face, body and fragrance, we've selected the best picks of the year to bring you the ultimate grooming guide for 2019. It might just be time for you to print this out and send it to your significant other, you know, to assist with the Christmas shopping this festive season. Enjoy.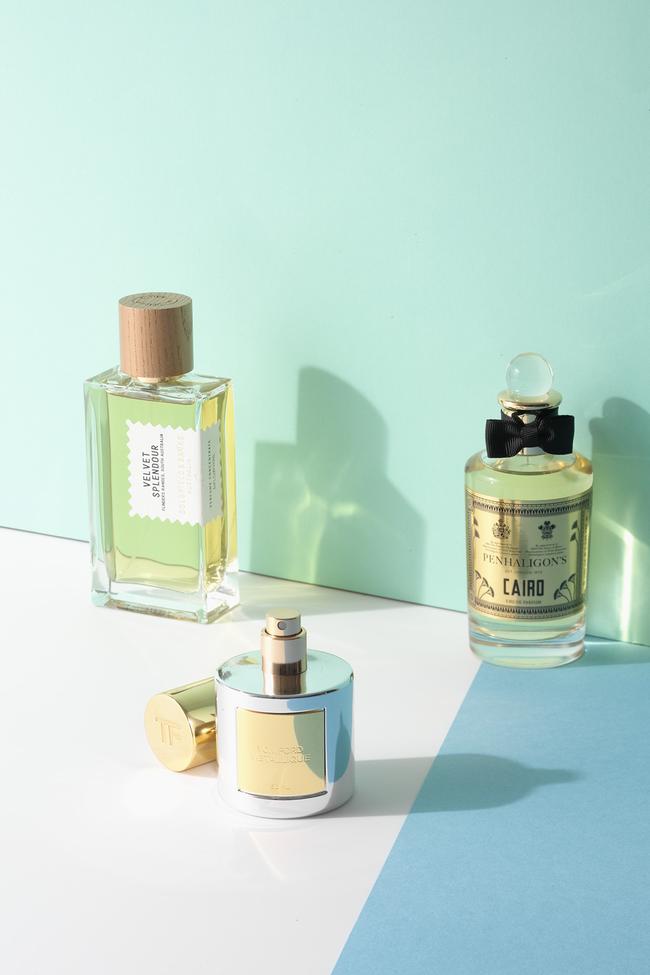 Fragrance
Australian: Goldfield & Banks 'Velvet Splendour Perfume Concentrate', $229 (100mL)
Available from goldfieldandbanks.com
Luxe perfumery celebrating uniquely Australian notes in unisex formulations. This one is all about wattle blooms that signal the start of spring. 
High-End: Penhaligon's 'Cairo' EDP, $329 (100mL)
Available from agencedeparfum.com.au
Damascan rose, saffron and Sri Lankan sandalwood from a brand more noted for restrained concoctions. 
Unisex: Tom Ford 'Metallique', $195 (100mL)
Available from tomford.com
Pink peppercorns and heliotrope plus Peru balsam and vanilla make for an androgynous offering a world away from safe citruses. 
Mass-market: Paco Rabanne 'Invictus Legend' EDP, $146 (100mL)
A spicier take on the original with timbers and red amber coming to the fore.
Available from myer.com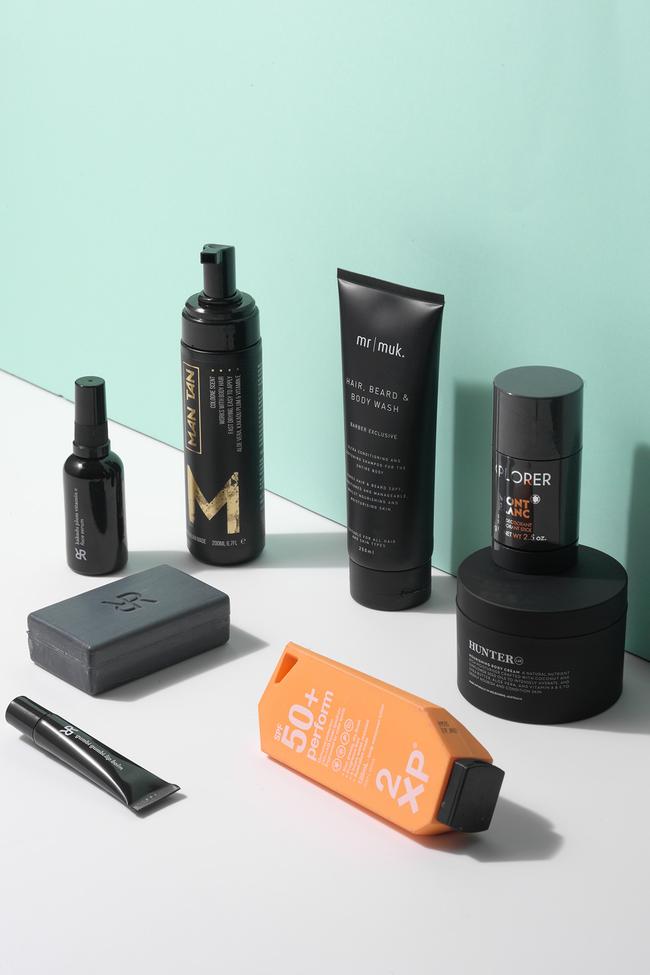 Body
Self-Tan: Man Tan 'Original Formula', $35 (200mL)
Available from mantan.store
Nourishing, natural and undeterred by body hair, this formula gets our vote for underplayed colour.
Multitasker: Mr Muk 'Hair, Beard & Body Wash', $27.95 (250mL)
Available from muk-hair.com
Muk's new upmarket, barber-only range is a revelation, and this product is a gym bag essential.
Deodorant: Montblanc 'Explorer' Deodorant Stick, $40.95 (75mL)
Available from cosmeticsnow.com.au
Just like the EDP, it has pink pepper, sage and bergamot, but at a fraction of the price. 
Body Moisturiser: Hunter Lab 'Nourishing Body Cream', $58 (250mL)
Available from hunterlab.com.au
Shea butter, aloe and vitamins A and E combine to drench skin in the moisture lost during days by the beach. It's also available in two scents – linen and oak grove.
Sunscreen: 2XP 'SPF50+ Perform', $14.99 (125mL)
Available from 2xp.com.au
Fragrance-free, four-hours water resistant, Australian made and with a dry finish.
KIT: Rohr Remedy '100% Man', $90
Available from rohrremedy.com
The surging Aussie bush brand triumphs with this combo of products: activated charcoal soap; Kakadu plum and vitamin C face serum; with gumbi gumbi lip balm.
Footcare: Starskin 'VIP Gold Foot Mask', $15 (40mL)
Available from sephora.com.au
Just in time for slide season, these sock-like affairs act as a mini sauna and revive yo stanky feet in just 15 minutes.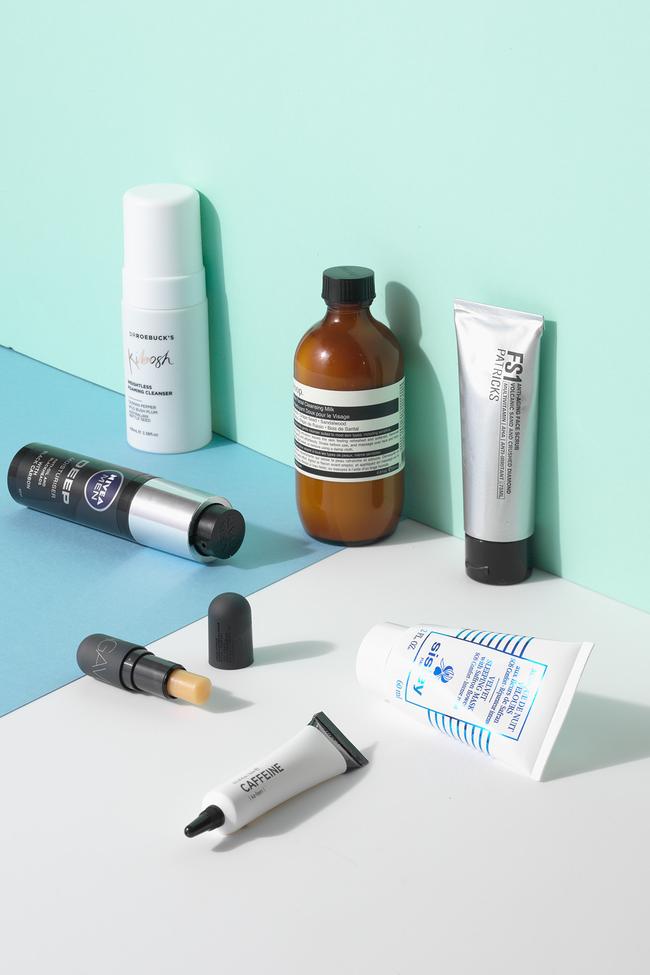 Face
Foaming Cleanser: Dr Roebuck's 'Kibosh Weightless Foaming Cleanser', $36 (100mL)
Available from sephora.com.au
Australian botanicals such as wattle seed strip away what shouldn't be on your face and retain what should.
Milk Cleanser: Aesop 'Gentle Facial Cleansing Milk', $37 (100mL)
Available from aesop.com
Actually created for make-up but does wonders on everyday dirt, oil and grime.
Exfoliator: Patricks 'FS1' Face Scrub, $60 (75mL)
Available from patricks.com.au
The Aussie hair-care savant's skin line did not disappoint and this 100 per cent vegan volcanic sand exfoliator nixes dead skin cells and preps for a perfect shave.
Mask: Sisley 'Velvet Sleeping Mask', $295 (100mL)
Available from davidjones.com.au
Not getting enough sleep? Your diet a bit crap? This concoction of macadamia oil, saffron owers, Kokum and shea butters will hide such sins.
Eye Cream: The Inkey List 'Caffeine Under-Eye Serum', $18 (15mL)
Available from sephora.com.au
Caffeine is a diuretic so it relieves the water retention causing puffiness. Just like a double shot macchiato.
Lip Product: Bite Beauty 'Agave + Daytime Lip Balm', $22 (4.2g)
Available from sephora.com.au
Eight hour's protection, vitamin E enriched and no chemicals. What's not to love?
Face Moisturiser: Nivea 'Men Deep Moisturiser', $14.15 (50mL)
Available from chemistwarehouse.com.au
A wallet-friendly moisturiser good for those with oily skin who suffer from blackheads.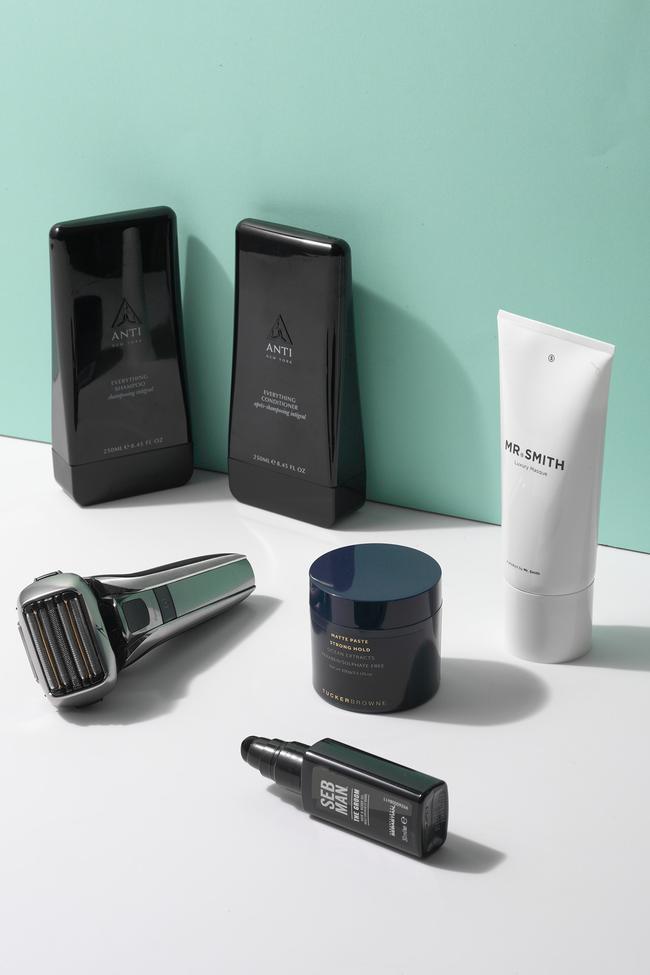 Hair
Shampoo & Conditioner: Anti 'Everything Shampoo', $39.95 (250mL) and 'Everything Conditioner', $42.95 (250mL)
Available from anticollective.com
Zero sulphates but a potent pack of botanicals that cleanse and care for hair while minimising breakage. Especially good for those who are thinning.
Treatment: Mr Smith 'Luxury Masque', $50 (200mL)
Available from mr-smith.com.au
Marula + frankincense + mango butter = a day spa for your frazzled strands. Use weekly. It's also PETA and vegan certified.
Product: Tucker Browne 'Matte Paste Strong Hold', $35 (100g)
Available from tuckerbrowne.com.au
Stays put but looks natural and the kelp extract helps keep your locks healthy. Also free of parabens and sulphates.
Beard Care: Seb Man 'The Groom Hair & Beard Oil', $27.50 (30mL)
Available from lookfantastic.com.au
Jojoba, grape seed and argan oil define and smooth face fuzz and a few drops are also great on those with dry hair up top.
Electric Shaver: Panasonic 'ES-LV9Q', $649.95
Available from shavershop.com.au
A five-directional shaver head, a quick-lift foil for cutting strands at the root and an ingenious cleaning recharge station to ensure you get a just-like-new result every time.
Shaving: Heso 'Shave Oil Gel', $19 (100mL)
Available from heso.com.au
Vegan and 88 per cent organic, this Aussie brand is all about eliminating shaving rash and even offers a full 30-day satisfaction guarantee. 
CSS Cleaner is a brilliant free online tool to take care of your dirty markup.